People say the icon of the Dutch landscape is the windmill.
Along the Amstel river, De Riekermolen windmill, that dates back to the 17th century, is famous for the small monument of Rembrandt alongside it. It's a tribute to his creative activity in the area. The windmill was used to drain the land, and now it's a symbol of human endeavors during past times. It can still be spinning in favorable wind periods.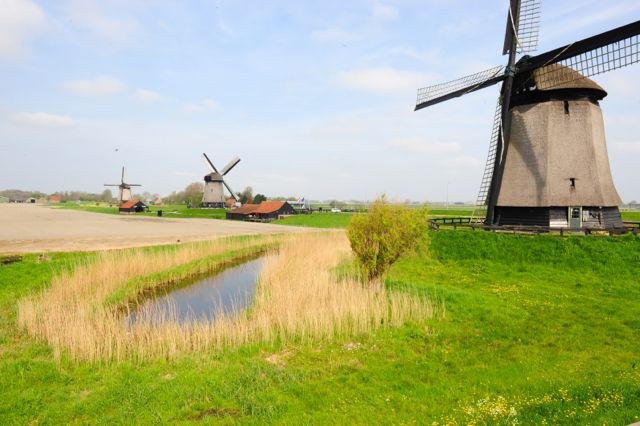 The city of Alkmaar, more than seven centuries old, hosts the three old windmills of Schermerhorn. You can enter the rooms and imagine the miller's family living. The "engineering" was achieved by smart, ancient techniques. The 52 windmills were erected in the course of time from the 17th century to 1929, when their function was lost; years after, however, some 12 were preserved by a foundation. Opening one of them for visitors, the Museummolen, has made it possible for visitors to learn about the Polder-mill system.
The area, where most of the windmills are located, namely five, is the Zaanse Schans, a small village along the Zaan river, in close proximity to Amsterdam. Local people describe the place as a museum under the sky. The iconic windmills are functioning, and upon wind availability, the chance grows to follow their operation in real time.
Their surroundings have been re-created, following the concept of a Dutch village of the 19th century, so authenticity is scarcely the landmark in comparison to De Riekermolen, but originality prevails. More than 1100 windmills were built in the course of the 17th to the 19th century. Volunteers have restored for the visitors to enjoy today the green saw mill, de Gekroonde Poelenburg; De Kat, being the only one with original position; De Zoeker and De Bonte Hen oil mills, and Het Jonge Schaap, a sawmill.
During the ages, the Dutch practiced the invention to secure their lives below sea level, survive and prosper.