Amsterdam is one of those few cities in the world quite ideal to visit on a budget reason being most of its attractions are free of charge or will cost you only a few Euros. However, accommodation in Amsterdam is a whole different story. This is one of the most expensive cities in Europe when it comes to accommodation. It may be relatively cheap to eat out but you have to choose carefully for accommodation lest you will be disappointed, that is if you are on a budget.
Here are ten of some of the budget hotels where you can enjoy you stay in the city without necessarily breaking your pockets.
This is a renowned hotel of choice for seasoned travellers, those of taste and with and with an eye for spectacular interior décor and design. If you are looking for an atmospheric weekend break, you can be sure about the Sunhead. It is also well in the walking distance of any place you would want to access in the town centre. It is a great value for your money for a place of its price range but you will have to book in good time in advance.
Double rooms start from £100.
Address: Tweede Helmersstraat 4, 1054CH  Amsterdam
Volks Hotel
This was formerly an office block for the De Volkskrant newspaper, now refurbished into a vibrant restaurant and club. The building still retains much of its former historical architectural and artistry appeal. Though it is a bit out of town, the rooms are spacious and a great value for your cash.
Double rooms start from £55.
Address: Wibautstraat 150. Just after the edge of Canal Belt, 2.8 km from the city centre.
Orlando
Orlando is a stone's throw away from the picturesque Amstel River, and on one of the Big Three' historic canals. If you are a lover antique architecture and furniture, Orlando will serve you just fine. It is conveniently located away from the city's bustle while still not far from the city centre. One of the mansions here dates back to 1680 and has a manicured garden at the back and contemporary touches on antique furniture
Double rooms start from £95.
Address: Prinsengracht 1099
Hotel Brouwer
This hotel is conveniently located right in the heart of town, on one of the main water canals. You will find this to be very convenient for that busy but short break, running to and from the city centre. Though a bit pricey for its class, your consolation is the convenience it grants you. The rooms are also quite comfortable.
Double rooms start from £95.
Address: Singel 83, 1012 VE Amsterdam
Hotel Bellington
This is a modest hotel located in Amsterdam's flashiest quarter. You might find the interior rather basic compared with the chic exteriors. The place is all in all functional and the rooms, though not with much décor, are clean and bright.
Double rooms start from £47.
Address: P.C Hooftstraat 78-80 Amsterdam
CitizenM Amsterdam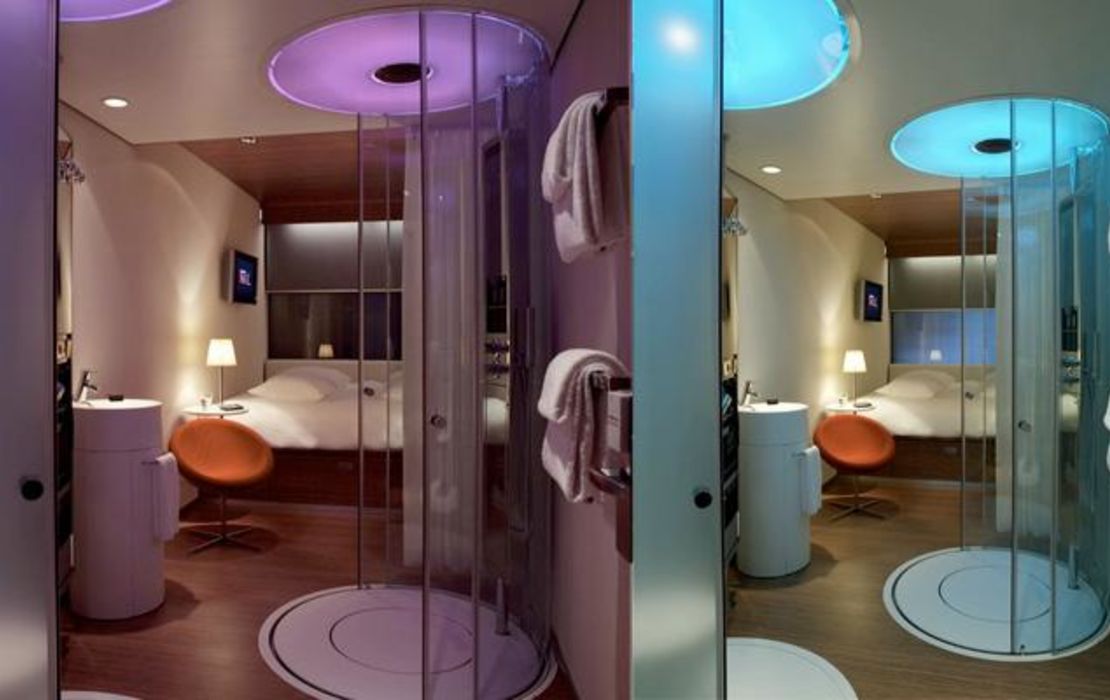 The CitizenM has a simple concept, that of capsule-hotels. It is however carries some sense of style, amid its automation such as designer furniture for lounge areas. The open planning "capsule-sytling" gives a rather homely feel
Double rooms start from £65.
Address: Prinses Irenestraat 30, 1077 WX Amsterdam
Hotel Not Hotel
Be embraced by the charming design and décor a little bit out of town though with enough public transport and also a walking distance. It is a great place to relax, forget the bustle, then venturing out again. The architecture of the hotel gives it this feel of intimacy yet eccentric in a space that isn't that big.
Double rooms start from £56.
Address: Piri Reisplein 34
The Exchange
The exchange lies a heartbeat away from the red-light district right in the middle of the hectic street headed to Central Station. The interiors here will entice you; inspired by interior designing talent of the Amsterdam Fashion Institute and the Dutch Textile Museum.
Double rooms start from £74.
Seven Bridges
If you fancy picturesque view, then you should book in at Seven Bridges and get to enjoy one of the most breath-taking views in the city: a view of the Seven Bridges at the intersection of the two canals. Get great value for your money at this Unesco World Heritage Listed site. This is a perfect place for a special treat to your spouse.
The Blue Sheep
The Blue Sheep is located in a car-less zone off one of the city's main canals. You might encounter a few scantily-clad women, a commonality in Amsterdam. The rooms a, though a bit pricey, are quite elegant and stylish, considering the location.
Double rooms start from £90.
Address: Korsjespoortsteeg 3, 1015 AP Amsterdam
Basically, when looking out for budget accommodation in Amsterdam, it is advisable to steer clear of the red-light district as they are more expensive. Turkish and Indonesian restaurants in the city will offer you nutritious yet inexpensive cuisines with a variety to choose from.
Enjoy you stay at Amsterdam!