If you are planning for a total tension free summer and lazy family trip just to have a fun filled family time and if are already fed up of France, London and Italy I would suggest you just try Netherlands or Amsterdam to be specific. All places do have spots of attraction of their own kind, right? So that's when you start searching for places that shall also provide you good food and boarding.
You stroll over to kerkstraat and bingo you have the most fashionable coffee shop of Amsterdam right on your face, Dolphins coffeeshop. It's is just near the famous Leidsplein and at a walkable space. The oceanic theme gives a very cool look and the airbrushed dolphins hanging from the roof looks charm. The bar is illuminated with the glowing goldfish lamps. The seating is so comfy with bar chairs and café tables. And the painting makes you feel part of the ocean with the ceiling and the floor covered with the underwater look. The Dolphins coffeeshop is one of the very few internet access providers. The staff are the coolest and you can even ask them for suggestion if you have no idea of what hash and weed is.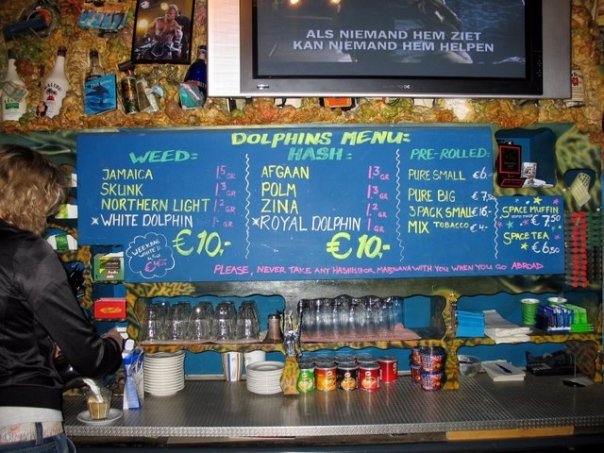 Dophins coffeeshop is perfect for a family time along with kids with no worry of getting your teens getting wrong ideas as it is licensed without alcoholic beverages. The cakes and muffins make you mouth water and you would really want to try it time and again.
You can also have a chit chat with the staff who are really very friendly and make you feel at home and don't forget to ask them if the cannabis canal boat tour has been put to action yet. After all, every one of us deserve a relaxed family time falling out of the stressful routine and Dolphins coffeeshop makes sure you earned it.